Basketball-reference.com posted the always interesting 2015-16 clutch shooting stats via their twitter feed Saturday. The top 10 list below answers the question:  What do NBA stat geeks do on the weekend?  But it also tells an illuminating story about the state of most of the current NBA, where the pace is picking up but scoring is not; and where the most 3-pointers in league history were shot while offensive rebounding hit an all-time low.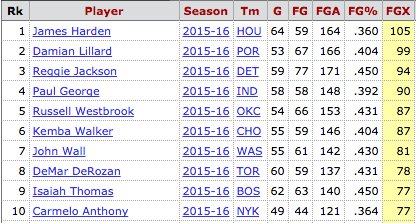 Note that there are no Warriors, Cavaliers or Spurs on the list (no Bucks either) — and no big surprises. Not one of these ten players was in the top 20 in 3-point % last season, yet five were in the top 20 in 3-point attempts (Harden, Lillard, George, Walker and Thomas). All of them were in the Top 15 in field goals missed, with the guy with the best shooting % in the final 4:00, Reggie Jackson, ranking 15th.
Seven of these guys were All-Stars last season (Lillard, Jackson and Walker were not). Eight were on playoff teams last year (Wall and Anthony were not), making for some nearly unwatchable basketball in the early rounds. Six are point guards plus Harden, who tries to play three positions simultaneously. Two are wildly inconsistent Kobe-formula All-Stars (George and DeRozan).  And there's Carmelo. Every player on this list is on a team that would likely win more if the player shot less, passed more and took better shots.  Meet the marksmen of mediocrity, the top 10 gunners who shouldn't in the final 4:00.
1) James Harden was 2nd in the league in scoring (29.0 pts/gm) but got off to a horrendous start 2015-16, dug his team into a hole early on, and led the NBA in missed shots and turnovers.  He posted his lowest 3-point shooting % in the last 5 seasons yet shot more threes than anybody but Stephen Curry. Harden's stat sheet is filled with such absurdities, his Rockets were next to unwatchable, and the center, Dwight Howard, opted out for bigger green and greener pastures. (Edit: Howard signed with the Atlanta Hawks).
2) Portland wasn't supposed to do anything last season, so Damian Lillard shot more than he ever had in his career, missed more than anybody but Harden, shot less than 42%, and was snubbed for the All-Star game. Thanks to some Allen Iverson-type heroics from Lillard, however, and teammates that hustled for the missed shots and won 50/50 plays (much like Iverson's Sixers), the Trailblazers had a surprising season. They even won a playoff series.
3) Reggie Jackson went from OKC to Detroit in 2015 after Brandon Jennings went down with a snapped Achilles tendon, and Jackson helped lead the Pistons to the playoffs for the first time since the Allen Iverson experiment. Having paid a fair amount of attention to the Pistons last season, I can say they lost a bunch of close games (hack-a-Drummond played a role there) and that Jackson and shooting guard Kentavious Caldwell-Pope shot their team out of a few of those.
However, note that Jackson's 45% shooting in the final 4 minutes is tied for tops on this list, and that 7 of the ten guys on the list played in the East. This means that the competition usually shot worse than Reggie, yet, somehow the Pistons were unable to catch the Pacers in the standings and were stuck playing Lebron and the Cavs in Round 1 of the playoffs (they were swept).
4) Paul George shot less than 42% last season and missed more than anybody but Harden and Lillard. Despite the Pacers 3rd-best team defensive rating, George's inefficient offensive play, along with Monta Ellis' usual madness and poor outside shooting, exiled the Pacers to mediocre-ville, prompting the firing of coach Frank Vogel.  Will new coach Nate McMillan be able to bring sanity to the Pacers' offense?  We shall see, but note that George shoots below 40% outside of three feet from the basket, and under 40% in the final four minutes (see above chart).  That's worse than mediocre, though his 3-point % is not. The Pacers crash to mediocrity was predicted here three years ago, and, well, we know what happens to most mediocre NBA teams. They don't win, nor do they remain mediocre.  Let's see how long GM Larry Bird waits before overhauling the roster. And look, I finally spelled Monta right.
5) Russell Westbrook would be near unstoppable if he played smarter and remembered more often that he plays with Kevin Durant (who's not on this list of failure, you'll note). The Thunder finished ahead of only the lowly Sixers in 4th quarter scoreboard differential last season, and a lot of it had to do with the hero ball that Westbrook and Durant like to play down the stretch (and that the OKC bench had a habit of losing big leads.) It's scary to think that OKC has so much room for improvement, but they do.  The Thunder upgraded their roster last week with the trade of Serge Ibaka for Victor Oladipo and Ersan Ilyasova. (This was written before Durant bolted for Golden State, obviously).
6) Hard to believe Kemba Walker missed so much in the final 4:00 last season, given his uncanny success killing the Bucks in close games. Walker shot 46% (12 of 26) from three vs. the Bucks last season.  Thanks in part to the Bucks, he led the league in clutch scoring, according to the Hornets, narrowing it down to the final 2:00 of games decided by 4 points or less. His Hornets moved up in the East and won 48 games, but Hornets fans shouldn't get too happy. The success had as much to do with the competition in the East than the Hornets' competence — Charlotte was 20 wins, 3 losses against the Bucks (3-1), Magic (3-1), Knicks (3-1), Pacers (3-0), Nets (4-0) and Sixers (4-0).  But maybe they should get happy — all of those teams are still in the East.
7) Surprised John Wall is on this list?  I am too.  The Wizards were limping around for most of last season, and Wall and shooting guard Bradley Beal seemed at times exhausted by it all — when they both played.  Wall had to take on added responsibilities due to the injuries, and, obviously, this resulted in more shots and fewer of the surgical passes he's known for.
8) DeMar DeRozan shot so poorly (39% including 15% on threes) during the playoffs that he should have been fined. Yet somehow he made another All-Star team and Toronto had its most successful season in history, losing to the Cavs in the East Finals — but only because Miami center Hassan Whiteside's knee gave out during the series with the Raptors.  They were nearly unwatchable in the playoffs. In the Pacers series, DeRozan's eFG% was 33%, but, in all fairness, the refs kinda let George push him all over the court. Double D had a "Kobe formula"  stat line on the season, and, well, being on this list is part of having a Kobe formula stat line.
9) Isaiah Thomas is an electrifying young point guard, but he's so small at 5'9″ that he gets worn down by the 4th quarter. Boston GM Danny Ainge desperately tried to trade the No. 3 pick in the draft for an established No. 1 scoring option at shooting guard/small forward but the Bucks (Khris Middleton), the Bulls (Jimmy Butler) and the Jazz (Gordon Hayward) all rejected the offer.  This may be an actual case where Thomas needs better-shooting teammates to stay off lists like this one.  But note that he did tie with Jackson for best shooting % on the list. Boston won 48 games, so it follows that opponents were usually shooting worse Thomas in the 4th.
10)  A study a few years ago showed that Carmelo Anthony was the best clutch-shooter among the big names in the league, going all the way back to the early 2000s when Kobe and Shaq were winning titles and McGrady seemed unstoppable.  Carmelo has slipped, but then his 2016 Knicks were in a holding pattern, firing another coach and waiting for the free agents of this summer.  Carmelo laid back last season, played some good team ball, and enjoyed the surprise development of teammate Kristaps Porzingis.  I was actually surprised to see him on this list, but then, scorers will try to be scorers, whether they've lost a step or not.
What have we learned from this list?
High volume – low efficiency scorers may find their way onto All-Star teams and ESPN's Sportcenter … if they shoot enough and don't play in Portland or Charlotte (or Milwaukee).  But they'll eventually drive their teams to mediocre-ville and take up residency there, where the fishing is always good in May and June.