Not to detract from matters at hand for the Bucks — salvaging something on their last West Coast swing and the politics of Andrew Bogut's first All-Star selection — but the Bucks announced today that power forward Drew Gooden will miss the bulk of the 2011 stretch run.
MILWAUKEE (AP)—Bucks forward Drew Gooden will be sidelined four to six weeks because of lingering problems with plantar fasciitis in his left foot.

General manager John Hammond says Gooden will undergo treatment on Wednesday in Los Angeles. The injury has already cost Gooden 21 games this season, including the past six. LINK to story.
So that's that.  Coach Scott Skiles is free to play Ersan the rest of the way without any pressure to play the GM's big summer free agent signing.  Ilyasova's already won the starting power forward job — now he has the opportunity to build on his stake in the battle for a playoff seed.
This officially keeps Gooden out through the Feb. 24 trading deadline and into mid-March.  So much for the trade rumor mills that might have whirled around the Bucks with Ilyasova relegating Gooden to bench duty and the Bucks in need of a backup center.
GM Hammond has effectively killed the Gooden-for-Haywood trade idea with Dallas.
He's also saved face, should the Bucks fail to make the playoffs with his his 5-yr, $32 million power forward officially sidelined. He can write the failure off on injuries to his key summer acquisition (and others) and "wait 'til next year."  Gooden's injury then becomes bad luck, not a monumental mistake that left his team without a backup center.
(Hammond apparently thought he was signing the Drew Gooden who played for the Cavs 4 years ago. This isn't merely a one-liner as there is something to be said for Hammond's dogged interest in Gooden dating back to his days in Detroit. Keep in mind that the Bucks jinx at the power forward position from which this blog derives its name may have played a role in the case of mistaken Drew Gooden identities.)
If the Bucks do make the playoffs (and they likely will unless Bogut breaks his left arm — the Bucks have still played the toughest schedule in the East) Gooden should be healthy by then and able to lend a hand in a first round series against the Celtics, Heat or Bulls.  More likely than not, the Bucks would land with a #7 or #8 seed a high profile matchup against the Celitcs or Heat, where they'll need all the healthy help they can find.
*Note that the Bucks record has been 8 wins – 17 losses in games that Drew Gooden played. (Source LINK).
**Also note that in only two games this season did a big contribution from Gooden come in a Bucks victory:  Home wins against the Warriors and Knicks back in November.  If you should happen to be looking through box scores, pay no attention to the one from the blowout win over Atlanta — the Bucks bench led by Ilyasova and Maggette rolled the Hawks after the Bucks starters had dug a 9-to-22 deficit.
Make of those notes what you will.
**************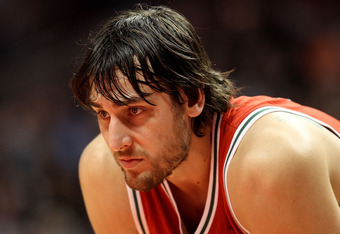 ALL STAR SELECTION UPDATE:  Tonight's the night the reserves are unveiled by Charles, Kenny and Ernie, McHale and C-Web on TNT's "Inside the NBA."  None of the NBA's leading talking heads had Bogut among their reserve picks, largely due to the Bucks disappointing record (Bogut's name wasn't even mentioned on last week when they made their picks).
But cooler heads may prevail.  Kelly Dwyer at Ball Don't Lie puts Bogut in a group of five or six players under consideration for the two wild card spots in the East.  Carlos Boozer, Elton Brand and Josh Smith are among them, with Al Horford and Chris Bosh the favorites.
Not only are Boozer and Bosh more deserving of an All-Star nod than Ray Allen, so too are Josh Smith and (don't laugh) Elton Brand. Brand might whiff of a millstone to you, but he's also averaging 15 points and 8.5 rebounds, making more than half his shots with 2.6 combined blocks/steals for a team in the playoff bracket.

And though his offense has been awful this year — a True Shooting Percentage of 49? for a center? — I'm not sure I've seen a player with as strong a defensive impact as Andrew Bogut this season.  And I'm well aware that Dwight Howard has played basketball this season.
No, Ball Don't Lie doesn't get a vote — but it's a prominent media opinion that hasn't been heard in media working directly for the NBA. (That was my bold added to the text).
Bogut is definitely in the conversation, and there is a lot of support out there among coaches in the East.  Perhaps this is as much because he was snubbed last year. Perhaps it's because he's played through injuries where others haven't, and still had a major impact.  His team in the hunt for a playoff spot, his defense has been superlative — Defensive Player of the Year worthy.
Boozer, Ball Don't Lie's selection, has missed 18 games for Chicago. That's almost half the first half.
Coaches notice that stuff.  For them, making Bogut the center pick on the reserve ballot requires much less debate than picking Al Horford over his teammate, Smith, who, like Bogut deserves first time All-Star recognition.
Actually, everyone notices that stuff except Bulls fans, which is why a Boozer selection over Bogut or Josh Smith doesn't make much sense.
A number of coaches, Avery Johnson, Stan Van Gundy, Doc Rivers are very likely to vote Bogut as the reserve center — they're not blind to the fact that Horford isn't the Hawks starting center against them.  Doug Gollins from Philly, according to recent comments, is also very likely to vote for Bogut.
This might be the year, and don't be surprised if Bogut's name is called despite the lack of support from the TNT hosts who'll be calling it.
Needless to say, I'll be watching with interest tonight.