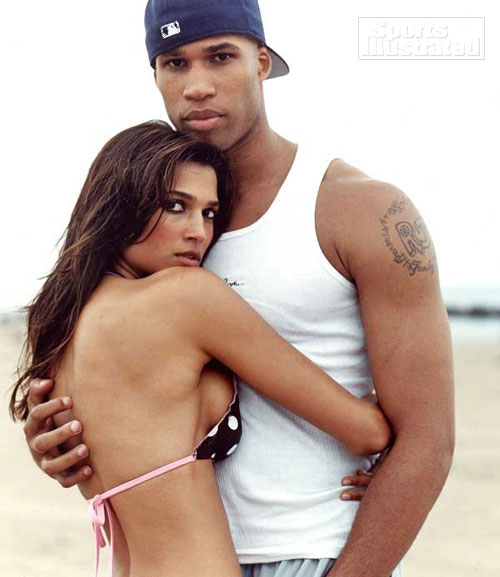 Richard Jefferson is the man Bucks coach Scott Skiles plays more than any other. In fact, Jefferson's played more minutes than any player in the NBA to this point, thanks to the Bucks grueling schedule. (They are one of only six teams to play 26 games so far, Charlotte in the East and Utah, Portland, Sacramento and OK City out West being the others). Yet Jefferson is not a player who gets much scrutiny or praise from fans whether it's on our forum here at Sportsbubbler or others. Discussion about Michael Redd or Andrew Bogut? Those never seem to end.
Jefferson, despite the big trade of Yi Jianlian that brought him here and the court time he gets, is somehow flying under the radar, at times a forgotten man. It's an odd phenomenon but it's also part of who R.J. is as a player. To get to the bottom of this, let's go back to last year when R.J. was a New Jersey Net.
[No, I don't know who the brunette on R.J.'s arm is (the tag just says she's a model – no kidding) … EDIT: Turns out that's R.J.'s wife, Trinidadian supermodel Teresa Lourenco.]
I was at a Nets-Bucks game last December and you wouldn't have known Jefferson was on the court much of the time. The Bucks played well that night, if not consistently. It was Mo Williams bobblehead night, and he and Michael Redd decided to have a shootout in the first half. Mo had 21 at half; Redd made sure to outscore him with 24 (or maybe it was the other way around). In any case, it was kind of sickening when you realize they were on the same dam team and at one point when Mo was on fire, Redd nearly threw a temper tantrum over it as the team came to the bench during a time out(our Bucks, what a team!). In spite of (and because of) the Bucks fireworks, New Jersey hung around, won the 4th quarter and won the game.
Afterward, the feeling was, how'd the Nets do it? They weren't shooting well for much of the game or so it seemed, and they looked out of sync despite Jason Kidd running the show. Kidd hit a clutch three in the 4th, that much I remember. But R.J.? Couldn't have even told you that night how he did. I just checked the boxscore from the game and can report that R.J. had a quiet 19 points in 39.5 minutes to go with 1 reb and 1 asst in all that time. Kidd and Vince Carter were on the court even morethan R.J. — 40+ mins for both of them. Redd played just as much and had 35 pts, most of it in the 1st half, and his Bucks lost at home.
I came away with the conclusion that Jefferson (and Carter and Kidd, too) had done a lot of little things on the court that escaped notice, none more important than playing consistent, though unspectacular, defense. Also, the Nets knew how to win the game — the Bucks were 0-4 vs. the Nets last season and it wasn't because the Nets were necessarily outplaying the Bucks. All four of those games were close — the Bucks just couldn't figure out how to win any of them. The Nets had numerous heroes, from Josh Boone to Bostian Nachbar (who's now playing in Europe or Russia or somewhere). It didn't seem to matter who the culprit was — New Jersey found a way to win. It was the little things – things the Bucks were not doing and hadn't been doing for years.
R.J.'s not the best of shooters, never has been, though some fans may recall how clutch he was against the Bucks early in his career. Is R.J. a slasher? Well, the book on him coming to Milwaukee was that he was, but that was part of the case made that R.J. and Redd would be "complementary players." R.J.'s slashing was limited at best in New Jersey. What sticks out in my mind about R.J. in his career are jump shots he hit over Big Dog in his rookie year (2002) and more of those in the 2003 playoffs againt the Bucks. It's never a good idea to put too much stock in the highlight dunks that show up on SportsCenter. Regardless, he hasn't been a slasher as a Buck — in fact it looks like he's lost some hop.
According to 82games.com shooting stats, 77% of Jefferson's shots are jumpshots, a higher percentage than the shots of the alleged jumpshooter, Michael Redd. Redd takes the ball to the basket much more than many fans realize. When the trade was made, I viewed Redd and R.J. as much more "like" players than pieces that fit together. They're hardly complementary.
Jefferson's no great passer or rebounder, either, although it was also said when the trade was made that R.J. would be a good rebounder. Bucks fans should know what a good rebounding small forward looks like: for the majority of team history the Bucks have had SF's who hit the glass more and better than R.J. — Big Dog, Terry Cummings, Marques Johnson and Bob Dandridge come to mind. Sticking with the more recent past, R.J.'s not the rugged boardsman Big Dog could be when the team needed him to be.
So what does R.J. do on the court? It's those little things that help win games — playing hardnosed, constant-pressure, ball-denying D; working hard every possession and never giving up on a play (a couple of things Bogut could improve on); doing more than enough (but not too much) with the ball on offense to remain a threat and maintain spacing for his teammates; getting to the line; keeping the ball moving on offense; being a good teammate; and, thinking and believing that his team is going to win. These are all things that rub off on teammates and, if and when they do, it's called leadership. Plus, Jefferson is able to maintain intensity without seeming to get tired, despite the heavy minutes that coach Skiles keeps him on the court. It's a long list.
Up to this point in the season, R.J. is off to his best start ever shooting from 3-point land. Whether that continues or not is anybody's guess, but he's never shot as well as he is now for an entire season. Whether R.J. continue to hit threes or not shouldn't play into how Jefferson is appreciated by fans. The intangibles that R.J. brings, those things that don't always show up in the box score, are much more important to this team, especially as they learn Skiles' defensive system.
If there's one word that best fits the intangible R.J., it wouldn't be "defense" or even "leadership" (though both of those things are part of it). The word is ATTITUDE.
Bucks vs. Sixers: Two wins in a row under their belts and the Bucks tonight face the Sixers, a quick athletic gang who can't shoot straight. Also waiting for Andrew Bogut and the Bucks in Philly is Sixers center Sam Dalembert. Dalembert hasn't been playing so well this season but in his last two games against Bogut and the Bucks, Bogut had more turnovers (7) than points scored (6). Here's the box score from the last one. It ain't pretty. I have a feeling that Bogut is looking for some redemption tonight.