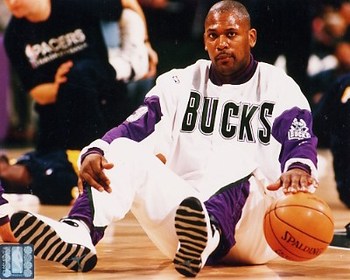 Michael Redd made a rare appearance in Milwaukee last week, serving pre-Thanksgiving meals at the House of Peace on 17th and Walnut.  Redd said the House of Peace charity was kind of tradition handed down to him by Ray Allen, which — though it's great that Redd continues on with the charity — isn't exactly true.
His comments did bring back a memory of another Bucks team that went into a season with high expectations and started badly — worse even than this season's frustrating 5-9 start.  Let's turn back the clock to November 2000 and the annual House of Peace meal.  This, of course, is a true story.
The House of Peace giving was something a lot of players on the Bucks did, and usually coach George Karl was doing the passing as far as who was going to go with him to serve Thanksgiving meals from year to year.  In Redd's rookie year (2000, when he was a practice player) Big Dog and Karl served dinners at the House of Peace.  Dog and George came back from the event with a nasty flu bug that infected half the team and dogged the Bucks to a 3-9 start.
Big Dog was so sick he missed a game. Karl, who was just as sick, did not.  George stewed on it for a couple of days, and when Dog and Sam and Jason Caffey were dragging it a little bit during a road travel transfer (they were probably stoned), Karl blew up.   Big Dog, still sick as a dog (but probably stoned) snapped back, starting a bunch of rumors that the Dog and George had stopped talking to one another.  Dog and Sam were punished by having to start a game on the bench.  This was also around the time that Ray and Big Dog were stripped of their co-captaincy and the "C" was sewn onto Ervin Johnson's jersey.
It was at that point that the 3-9 "Big Three" Bucks returned to Milwaukee for a few games and Big Dog went on a rebounding and scoring tear that ignited the rest of the team — those who could be ignited — some (like Ray, who never took criticism from George Karl very well) were still woozy with the flu (Dog and George, who had it first, got well first).  But by December everybody was healthy, Ray's head was clear and his shot was falling at devastating regularity and the Bucks finished the season out 49-21.  The rest is crooked refereeing history.
George has always taken credit for managing the 2000-01 team in such a way, just the right way, that made the magic possible.  Karl deserves the credit.  But in looking back at how the season started, and how and when it turned around, I can't help but wonder close the Bucks were to imploding, and how easily Karl might have missed the connection, that magical NBA championship-worthy thing the Bucks had going in 2001.
What if … Karl that November had served House of Peace dinners with a player NOT named Glenn Robinson?