With so many teams around the league having improved, it's tough to predict that the Bucks will win 50, especially considering that they'll play most of their Western Conference schedule and 28 of their first 49 games on the road.
But then a Bucks fan can always remember what the Bucks went through last season:  Michael Redd drama that cost them the first two games; simultaneous games missed by Bogut and Mbah a Moute that derailed their early season momentum (an 8-3 start); and 16 more games of Redd drama that tripped a few more losses, finally ending at the outset of a six-game western road trip — Redd played his last minutes as a Milwaukee Buck in L. A. and the Bucks headed to Phoenix without him.
In Phoenix, the Redd-less Bucks gave the Suns a great game and probably should have won it (a blown lay-up by Bogut in the final minute led to a 105-101 loss) and then pointed their sights north and west to Portland.
Brandon Roy, Andre Miller and the Trailblazers embarrassed the Bucks like they hadn't been — and wouldn't be — the entire season.  The Bucks were down 30 at the end of the 3rd quarter and the Blazers ended the game with an unheard of (against the Bucks) 118-plus 131 points per 100 possessions.  It was sick. The Blazers starters shot 33 for 48, and the Bucks were never in it from the opening tap on.
Roy is one of the game's superlative shooting guards, and his Blazers are one of the few teams that did not make significant upgrades in the offseason. They are almost precisely what they were when the Bucks rolled up the West Coast last January, minus a couple of decent backup point guards.  They're relying on their improving core of Roy, Miller, LaMarcus Aldridge, Martell Webster and Rudy Fernandez, plus Marcus Camby and a healthy Greg Oden (don't laugh) to maintain a 50-wins level in the ever competitive-yet-middling Western Conference. Good health for the big men could make the Blazers a West powerhouse.
The Bucks are in the same boat, like it or not.  Drew Gooden isn't much of an upgrade; and while Corey Maggette seems bent on proving that he is, the Bucks don't have a backup center or point guard of Luke Ridnour's caliber (the Blazers' Steve Blake, now a Laker, would have been a good addition, Jarryd Bayless, too).  No, Bucks improvement depends not on the Bucks new additions that GM John Hammond hopes will sell some tickets (that's not really a crack at Drew Gooden)  but on the Bucks core — Brandon Jennings and Andrew Bogut, of course, and on John Salmons, Luc Mbah a Moute, Carlos Delfino and Ersan Ilyasova.
Here's that box score from last January.  Ouch.
Salmons wasn't a Buck yet (and Camby not yet a Blazer) and Jennings was in the middle of his first six-game Western trip.  But still, it looks to me like the Bucks should have something to prove tonight.  And why not?  Bogut will be matched up against Oden, not Camby, if for no other reason than the drama of it all, with the still unanswered questions about whether or not Oden can hang with a real NBA center. … We'll see how long that lasts.
And the Blazers were thumped in Chicago last night.  The back-to-back I-94 gauntlet is tough for travelling Western Conference teams, even for the Lakers, and the Blazers are no elite team — not yet.   Revenge on the Chicago-Milwaukee gauntlet should be sweet, mean and an unavoidable trap for Portland, shouldn't it?  If the Bucks are a 50-win plateau team, this one should be in the bag, shouldn't it?
Then why does it feel that the Bucks — built for the rugged East — have a better chance of winning in Boston Wednesday night than they do at home tonight?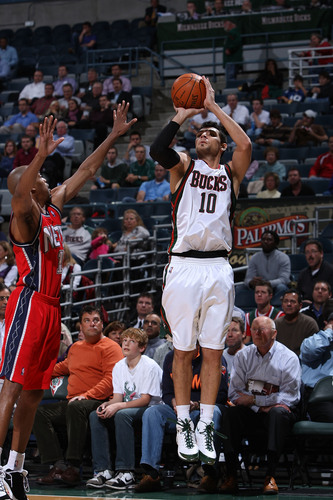 DEL-THREE-NO: Carlos Delfino is on a shooting tear to start the season, bombing away at a 46.7 percent rate from downtown (12-26).  He leads the league in three-point attempts and is 2nd in makes, behind only Heat sharpshooter James Jones. History suggests that the notoriously streaky Delfino won't be able to keep it up.  But then again, who knows if Skiles continues to play him 36 mins a game.  Del is in a groove, no doubt about that, and once a shooter is in a groove, a streak can last for weeks.
Del's 110 minutes in three games puts him among the league mpg leaders, but guess who's at the top through four games —  Roy and Aldridge, with Andre Miller also in the top 10.  There's nothing up the sleeve of these Blazers — they roll it out there with their best playing heavy minutes, knowing that their best are probably better on most nights than your best.