The Atlanta Hawks don't add up. I'm beginning to think they're one of the most unusually balanced teams* in the NBA.  This can be a good thing or a bad thing for their opponents, as it's often good and bad for the Hawks.
Everybody knows how the Hawks score, and that they do it extremely well for a team that doesn't do much of anything interesting on offense. They take their time, they isolate 6'8″ guard Joe Johnson on smaller defenders, and when that breaks down they have any number of smoooth shooters (Mike Bibby, Jamal Crawford) who can stick shots, plus two athletic forwards (Josh Smith and Al Horford) who can get shots when needed. They don't turn the rock over in the process because they aren't doing anything risky with it. And they score 111.9 pts per 100 possessions, 2nd best in the NBA to Steve Nash's Phoenix Suns (115.3).
How slow do the Hawks play? In fact, only the Trailblazers and Heat play at a slower pace.  The East's defensive stalwarts — the Magic, Bobcats, Bucks and Celtics — spend less time than the Hawks figuring out what to do with the ball. The Bucks (like the Magic) like it moving, the quicker the better. Not so the Hawks, who'll simply shoot it over you if it comes to that. Did I mention that Joe Johnson is a 6'8″ shooting guard?
But let's talk about defense: Unlike some high-efficient offensive teams in the league (Suns and Raptors), the Hawks aren't a bottom-of-the-barrel defensive team.   Yet unlike the league's best — the Cavs and Magic, Lakers, Jazz and Spurs, they're not good at both, statistically speaking.  The Hawks are, in fact, exactly in the middle, the 15th-ranked defensive team in the league on a points allowed per 100 possessions basis, the measure that matters.
Yet two Hawks players — Smith and Horford — are getting some recognition and mention on the All-Defensive teams. The link there is to the stats-based site, Basketball Prospectus, where Smith and Horford are Honorable Mention All-NBA defenders. (And how about Brandon Jennings? He's BP's 2nd team All-NBA defender).
How does this add up?  Well, it doesn't, not in any good basketball sense.  If a team has a good coach and very good defenders in the starting lineup, chances are that the team will be in the Top 10 defensively. Yet the Hawks aren't.  Is Mike Woodson not necessarily a good coach?  That's a distinct possibilty.
Or are Horford and Smith simply not as good on D as some stat geeks say they are?  That's entirely possible too. Basketball Prospectus asserts that Horford made the All-Star team based on his defense. I don't buy that.  Horford made the All-Star team because the coach's votes for the last spot as an East reserve were split among at least four players — the Knicks David Lee,  Andrew Bogut and Horford's teammate, Smith.  Horford had his only 20+ point games in the first half against the Pacers, Knicks, Raptors and Bobcats, and those four votes were likely all he needed.
The truth, of course, is somewhere in the middle. If Horford and Smith were truly great defensive players and Mike Woodson was a great coach, the Hawks team D would be better. It's not not entirely beyond their control, yet the Hawks truly bad defensive players (Crawford and Bibby) have remained bad on D. Guard Maurice Evans and the star, Johnson, aren't any better. This is an across-the-board problem on the Hawks perimeter.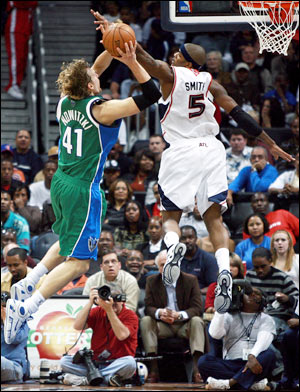 So Smith helps whenever and wherever he can. He's a long-armed 6'8″ and he can jump out of a building. When his teammates break down on defense, Smith likes to be there, blocking shots, making steals, causing mayhem. He's one of the best, if not the best, help defenders in the NBA. I'd have no problem putting him on an All-NBA defensive team were it not for the fact that most All-NBA defenders elevate the play of their teammates and lead stubborn defenses.  As hard as Smith works to block/alter shots and erase his teammates' mistakes, there's no one in Atlanta holding the team accountable for the mistakes.
Horford's a different story. He's an undersized 6'9-10″ center, not even a center really, in a league where there are so few offensive centers anymore that few teams can make the Hawks pay for their lack of size. Why would most teams bother to try? Usually, the Hawks guards are leaving their men plenty of shots and opportunities — there's no reason to work it into the post. So Horford tends to stay at home with his man and rebound (10.1 rpg).
The Hawks also do a lot of switching to mask the defensive shortcomings of players like Bibby and Crawford. This puts a lot of pressure on Smith and Horford (and backup big man Zaza Pachulia) to make plays and guard mismatches, a smoke and mirrors defensive strategy that leaves the Hawks vulnerable close to the basket. The Bucks have recognized this, and it's a big focus for Skiles and point guard Jennings, who has to be able to exploit the Hawks and drive it to the hoop. He hasn't done this yet.
The bottom line here is that the Hawks aren't trying to D their opponents up in any way that makes sense to fans who've watched the Bucks intense ball-pressure defense all season. The Hawks will give their opponent open looks — they're betting that A) you don't shoot it as well as they do, and, B) they're getting better (and more) shots than you due to their deliberate, low risk offensive style. The percentages are in their favor, as is the size advantage with Johnson at guard.
But if, say, an Ersan Ilyasova or Carlos Delfino has a hot hand, the Hawks edge disappears — especially when the Hawks are faced with a Bucks or Bobcats style of ball-pressure defense, where every move they make offensively is challenged. (There's a line that should go in here about the Bucks forcing more turnovers this season than any team in the NBA but the Celtics). There's a strong defensive concept at work on the Scott Skiles Bucks; it didn't disappear when Andrew Bogut went out for the season two weeks ago.
The Hawks-Bucks matchup in Round 1 presents any number of similar scenarios.  For example, Scott Skiles relied on Luke Ridnour heavily in the first two games this season against the Hawks.  Frodo is no great defender, but Bibby and Crawford weren't penetrating on offense or stopping Luke from getting to his spots on the offensive end. Luke plays more efficient offense than Jennings, so it only made sense for Skiles to play out the percentages. By and large it worked — the Bucks took the game in Milwaukee and fell in overtime in Atlanta.
Look for Skiles to play those percentages well in this series, and don't be surprised if things turn out fairly even for the Bucks despite Bogut's absence.
NOTEs:  The Bucks simply don't have players like Hawks sixth man Jamal Crawford, whose on court defense is 4 or more points worse than the team average, and I really should pick on Crawford here (Skiles couldn't wait to get him out of Chicago in 2004).  He spent the next five years in New York and Golden State. Crawford could not, would not play in Milwaukee. Had Bibby been in Milwaukee when Skiles arrived, he'd have been traded as fast as Mo Williams was.
* "Unbalanced" might be a better word for the Hawks. They're most like the Portland Trailblazers — but Portland made an effort to improve their D by bringing in Andre Miller, and now Marcus Camby. Statistically, the Hawks also have some things in common with Denver, but, again, as loony as Denver's roster is, it's filled with good defenders (Billups, Afflalo, Martin, Anderson). A Nene Hilario-Al Horford comparison is interesting.
Atlanta has gone in the opposite direction – they resigned Bibby this offseason and brought in Jamal Crawford.  As an acknowledgement of their defensive needs, they signed big forward Joe Smith to make them tougher in the playoffs. Really, that's what the Hawks did after being swept by the Cavs in the East semis. With the Cavs and Magic getting better in 2009-10, it was folly. Instead of taking a step back and retooling while Lebron and Dwight fought it out for the title, the Hawks set themselves up for a repeat finish — out in the semis with an aging point guard who doesn't play D and a roster in need of overhaul.  Meanwhile the Heat (D-Wade), the Bulls (Derrick Rose) and the Bucks (Andrew Bogut) are steadily growing with their young leaders and are poised to be much improved in 2011 and beyond.