Bucks 95, Bobcats 88
Bucks 103, Grizzlies 98
The question going into this weekend wasn't "how" or "whether" Michael Redd would fit in once he came back from his latest dunking attempt injury (his third such injury in three years), but can he fit in.
Now that question's moot as Andrew Bogut will miss 2-4 weeks with a left leg strain and contusion. Bogut was limping noticably after banging his leg in the 4th quarter of Wednesday's win over the Nets.
The good news is that a contusion is a bruise, not a serious injury, no reason for alarm. However, the Bucks should be careful about rushing him back in light of his lower back problems. If Bogut ends up compensating for a leg injury, he could compromise his lower back (again).
I don't think the Bucks did such a good job of being patient with their center's health last season, and it's very possible that ankle injuries suffered in the Olympics (two, including a possible cortisone shot) and one in Bucks preseason, as well as a mashed knee (guarding Dwight Howard last November) all contributed to the lower back injury. Bogut was basically playing on bad wheels for nearly four months before waking up to excruciating back pain in Philly Dec. 17.
Looking at the schedule, the earliest Bogut might return could be the Cavs game Dec. 6 at the BC, a Sunday afternoon game. The Bucks should not bring him out on the road over the next two weeks.
This is really too bad — Bogut's been playing some of the best ball of his career, making a strong case for himself to be Dwight Howard's backup at the 2010 All-Star game in Dallas. Bogues was averaging 16.1 pts, 9.2 boards and anchoring the Bucks top 5 NBA defense (they were 2nd after beating the Bobcats Friday, thanks to the Bobcats miserable FT shooting).
Bogut even knocked down a 15-foot jumper against the Nets Wednesday, on his way to 21 pts,11 rebs in the Bucks 99-85 win.
And he sounds genuinely ticked off to be hurt again.
The 18 shots Bogut took against the Nets were his season high, a sign that coach Scott Skiles likes Bogut as a #1 offensive option — and the rest of the Bucks are finally reading from the same page on this. This wasn't always the case last season or in the pre-Skiles era, which brings us to the pending return of one Michael Redd.
MICHAEL REDD: The Bucks aren't letting on exactly when Redd will be back ("soon" JSOnline reported Thursday). But we can expect he'll play at some point on the Bucks 4-game trip west, which begins Saturday in Memphis. This doesn't bode well, as Redd hasn't played well on the road in recent years. A main goal this season was for the Bucks to maintain some level of consistency, no matter where they were playing. That goal doesn't seem too realistic over the next couple of weeks.
Without Bogut in the lineup, be ready for anything — and keep an eye on the Bucks shot selection in these upcoming games. Skiles will likely be tearing at his own ears by the end of the week, and this is going to be interesting — but don't expect the Bucks to resemble the team we've seen go 6-3. Still, the ball will be in Jennings hands most of the time, which matters more than anything else at this point.
UPDATE: Redd was not activated for the Bobcats game Friday and has said he wants "a full contact practice" before he returns. That probably means he won't play Saturday against Memphis but might be back Monday when the Bucks take on the Spurs in San Antonio. Now it's Wednesday, according to Brandon Jennings in his post-Cats game comments.
When Redd was hurt in the home opener against Detroit, the Bucks said he'd miss two weeks. Saturday marked week #3 and Redd's given no indication that he's in any hurry to get back on the court — which is fine. The only reason I can see that Bucks fans should want him back is to get the final act of the Redd era over and done with ASAP. Something's eventually gotta give here, and it shouldn't be coach Skiles, Redd's teammates or Bucks fans.
That certainly includes Charlie Bell, who shut down OJ Mayo in 40 dogged, defensive minutes Saturday in Memphis, and hit 5 three-balls on his way to a season high 19 pts. Mayo shot 0-6 from downtown, while Bell shot 5-11. Bucks won 103-95. Play tough, in-your-face defense, hit the open looks — it's a winning formula.
And how about Ersan Ilyasova, who moved into the starting lineup Friday and had a heckuva weekend — 31 pts and 19 rebs in two Bucks wins. He was 10-19 from the floor against Charlotte and Memphis, and hit 4 of his 9 3-pointers.
LUC MBAH a MOUTE missed the first game of his NBA career Wednesday and it took the Bucks an entire half to figure out how to play D and keep the Nets off the offensive glass. Luc's day-to-day, nursing a sprained foot. If he's not playing against the 'Cats, hardworking forward Gerald Wallace is a matchup problem. Luc suited up against Charlotte but it doesn't look like Skiles will use him unless necessary. (He didn't). Luc missed game 3 of his career Saturday in Memphis. Don't be surprised, though, to see Luc guarding his former captain, Richard Jefferson in San Antonio Monday.
BEATING THE GRIZZLIES: Both teams were on the 2nd night of back-to-backs. Rudy Gay was coming off one the best games of his career Friday in Philly. The Bucks were on the road for the first time in weeks, playing without Andrew Bogut against a tough front line of Zach Randolph, Marc Gasol and Gay. Yet the game came down to this: the Grizzlies were no match for the Bucks backcourt, and Ersan outplayed Randolph in the big forward battle.
Brandon Jennings, Charlie Bell and Luke Ridnour played a combined 105 mins, poured in 58 pts and only turned the ball over THREE times. Ridnour had 12 assists off the bench. And on the defensive side, Bell shut down 2009 ROY runner-up Mayo. It was a complete mismatch, allowing the Bucks to overcome a bad-as# game from Gasol and another strong outing by Gay. If Grizz coach Lionel Hollins can figure out how to get the most of his three big men, the Grizz are going to surprise some people.
What's going to happen when Redd returns? And does Skiles have the authority to bench him in favor of Bell? And at what point should Bucks fans consider filing a class action suit against the organization for saddling us with the same dam# questions about the same da#m player year after year after year.
Charlotte takes Jackson off Nellie's hands: Warrior malcontent Stephen Jackson's in and veteran defender and three-point bomber Raja Bell, a favorite of coach Larry Brown's, is gone to Golden State to help Nellie stabilize things, one would guess. Jackson's been asking for a trade for a while and last week his agent attacked Nellie in an ESPN story, if you could call it a story. Are you bored with this item yet? I am.
In any case, the Bobcats are off to a slow start, in part because Bell hurt his wrist in preseason and needs surgery at some point. Jackson, the former Pacer, he of the Malace at the Palace brawl, can score. He's averaging 17 a game and put up 21 against the Bucks last Saturday. If one of his 3-pointers (0-4) goes in, the Bucks probably lose to the Warriors despite Jennings' 55. But that's Jackson — he can get good shots easily enough but he's not a very consistent shooter. Nellie would obviously rather have Bell and his bum wrist than a healthy Jackson. Wonder when Larry Brown will start to feel the same.
Don't let the Bobcats 3-8 record fool you. They are a tough, Brown-coached team that gelled after acquiring Bell and Boris Diaw from the Suns last season (trade for Jason Richardson). In the offseason, they got bigger in the paint by trading Emeka Okafor for Tyson Chandler, always a tough matchup for Bogut (Okafor never was). The 'Cats lost a tough one in Philly Wednesday night (Jackson had 26).
This was a difficult one for the Bucks before Bogut got hurt. The Cats ARE the competition in the East. Winning games like these, at home against teams like the Pistons, Philly, the Bulls, the Cats, the Raptors — will define the Bucks season.
UPDATE: Brown cut the Bogut-less Bucks some slack, holding out Chandler (sore lower back). No Bogut and no Chandler left Brown and Bucks coach Skiles cooperating on a donut game. Brown played Chandler's backups less than 19 mins combined, while Skiles said "thank you very much, Larry" and played Dan Gadzuric and Francisco Elson even less, a combined 18 mins in the Bucks 95-88 win. Kurt Thomas got his most extended PT, getting 23 mins, though not much respect from Brown, who didn't go bigger.
Brown may regret it: the Bucks killed the 'Cats on the offensive glass, winning the battle of the boards 14-2. Rebounding, Brandon Jennings (29 pts, 12-23 shooting, wowing the home fans all the way) and the Bobcats' inability to make free throws or 3-pointers sealed the Bucks win. The 'Cats shot 51% from the floor overall but hit just 2-14 from downtown. They were at the line all night but made only 26-43 from the stripe. A strange and ugly path to victory for the Bucks, but we'll take it while the gettin's good.
Ersan Ilyasova (7 boards, now the Bucks starting PF), Hakim Warrick (9) and Thomas (7) combined for 23 rebounds against the 'Cats.
The Bucks hit the road Saturday for Memphis and three more (SA, New Orleans and OK City) in the southwest. Six of the Bucks' next 10 are on the road.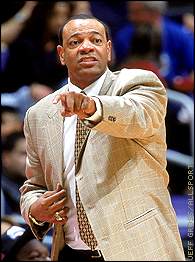 Lionel Hollins and the Grizzlies: Hollins left the Bucks last season to take over as head coach of the Grizzlies, no surprise to anybody — Hollins has been an integral part of the Grizzlies organization since its inception, and was due a real chance to be head coach (he was interim coach twice in Grizzlies history). I'm not surprised at all that Hollins had the good sense to try and bring Allen Iverson off the bench and was then perfectly content to let him out of his contract when AI didn't like it.
Now that Hollins and the Grizz are done with Iverson, they're the same talented young team that can't figure out how to win. And they're one of the worst defensive teams in the league, ranking 28th in defensive rating (the Bucks are 3rd).
But Hollins runs the Skiles offense, which can give the Bucks problems: it's like playing against a mirror. Remember late last season when the Grizzlies shocked the Bucks at home, 107-102? It was pretty rude, and the Bucks fouled the Griz all over the court. Forward Rudy Gay led the Grizz with 26 in that one.
Hakim Warrick will make his first appearance against his former team, though Ersan Ilyasova's earned most of the Bucks power forward minutes of late.
The Griz picked up a win IN PHILLY Friday night, 102-97. The Sixers are struggling a bit (playing like a "non-team," coach Eddie Jordan said.) but this is also the mark of an improving Grizzlies team, the one we caught a glimpse of toward the end of last season. Rudy Gay led the Griz with 33 pts, 10 boards, and this year's new arrival, PF Zach Randolph, is playing well too. 21 pts and 11 boards for Randolph against the Sixers. And I haven't even mentioned OJ Mayo or Marc Gasol.