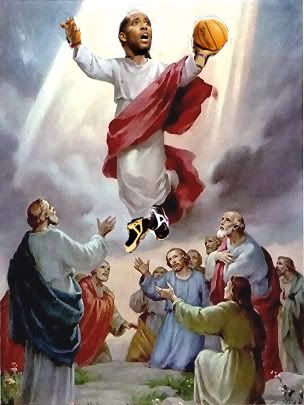 Michael Redd is down for the season with a career-threatening knee injury and Redd has said it's "God's plan" for him.
So much for trading Redd before the Feb. 19 trading deadline. The "what now" question is being asked a lot in the Bucks universe, as everybody pretty much understands that the holy plan for Michael Redd never had a helluva lot to do with the Bucks as a team, nor should references to heaven and hell be construed as haphazard or random at this point.
Pro basketball isn't like high school ball or even college ball, where if you lose a 20-point-per game scorer you're in trouble. Nearly everybody in the pro game can put the ball in the hoop. A guy like Bruce Bowen of the Spurs — a player who plays nasty defense, can guard the 2 and 3 positions, can shoot the three and is a coach on the floor — has proven to be a far more valuable commodity in the league than a guy like Redd, who basically just scores points and is no good at all of those things that Bruce Bowen is extremely good at.
But this is no time to harp about Redd. He's hurt, and that's no good. If there was an inkling by Bucks GM John Hammond to trade Redd by the deadline (yes, there was more than an inkling to do so) that's all but dead.
A Hawks fan on RealGM today said the Bucks have their very own Gilbert Arenas now. That's true. But it's also true that the Bucks have three guards who can ball — Luke Ridnour, Charlie Bell and Ramon Sessions. With Redd, there wasn't playing time for Bell and Sessions. Now there is, of course, and the strength — the advantage — this Bucks team has over most opponents is in the frontcourt, anyway. So now the frontcourt of Richard Jefferson, Andrew Bogut, Charlie Villanueva, Luc Mbah a Moute, Joe Alexander and Francisco Elson will have to take and make a few more shots. I don't really see a big big problem here, unless improved perimeter defense in Redd's absence is something that will keep Bucks fans away from the Bradley Center. I see an opportunity for guys to step up, and for Bogut to solidify himself as Dwight Howard's permanent All-Star back-up in the East.
I also see an opportunity to go to Free Darko to steal religious images, because, well, that's a good place to find them and they're big, which means I don't have to write as much. Also, Bucks GM Hammond, when he was in Detroit, had some role, even if it was minor, in drafting Darko Milisic over Carmelo in 1983. Or, to paraphrase Milwaukee's own Terry Porter complaining to Mike Dunleavy about the Bucks drafting Jerry "Ice" Reynolds over Porter in 1985… "If you didn't like what was happening in the draft, you didn't say it loud enough.."
The other images up today at Free Darko aren't making a helluva lotta sense to me right now, although, if you read the Free Darko post, a nice discovery realization is made about the value of the unpredictable point guard in the NBA over the control point guard… This should cheer Bucks fans up because we do have the unpredictable point guard thing down in spades with Crazy Luke and Ramon Sessions… now if Luke and Ramon can only keep their coaches  (control point guards all except for the rookie coach, Joe Wolf) out of the loony bin…. Who is Skiles trying to kid? He was a nutcase point guard himself until Shaq came along to give him purpose in NBA life…
And because God spelled backward is …
Free Darko is beginning to make sense, even though it is a Pistons blog and, well, what was posted today there being a good fit for what I wanted to do here is really kind of scary… (Yeah, the copy ed's out back smoking with Josh Howard and Mark Cuban, sorry).  So why didn't the Answer get on the court tonight (Sunday) in the final minute against Houston?   Rookie coach Michael Curry isn't managing that situation in Detroit very well, it seems to me. …