Yes, they do have Christmas in Australia, but that doesn't mean Andrew Bogut has to like it. Bogut dispensed his views regarding Christmas on his blog Sunday, which happened to be the day of the Winter Soltice:
"I'm not big on Christmas, Birthdays or New Years really. I think Christmas isn't celebrated for the right reasons, but mainly for a money driving machine. A lot of children probably wouldn't know what Christmas is about besides receiving cool presents and getting what 'I' want. I mean I don't dislike it don't get me wrong, but the whole decorating for Christmas and putting up a tree doesn't really give me a thrill. I think I left it behind when I was about 12 and realized the truth about Santa and his Reindeers."
Don't get him wrong? Just about everything Bogut wrote is manifesto for those who think the Christmas magic left when Rudolph got busted for vagrancy. Maybe Bogues was in the locker room when the Energee! dancers were doing their Santa routine at the Bucks-Clippers game Saturday ….
There's more on Bogut's blog, about friends and family being more important than gifts, and plenty of Aussie comedy videos and other stuff he finds for his fans back home. It's really one of the better NBA player blogs out there, and he has a new post up already in which he reports that his dad feels the same way he does about X-mas. He also says that a "present we didn't expect" may be in the works this week to help the Bucks. (This turned out to be the arrival of exiled long range gunner Damon Jones, which I confess never crossed my mind as anything that would be considered a gift.)
I empathize with Bogut's negative feelings about X-mas, I do, but I've been imbued with enough holiday spirit this week to wonder what the Bucks might leave under the Christmas trees or 'round Hanukkah menorahs and Kwanzaa kinaras of Bucks fans everywhere. (A kinara's a candleholder, much like a menorah, and you wouldn't want to put gifts under either of those burning things).
Never let it be said that one can't find culture here … or fire safety tips. But enough of that … Let's get to those gifts …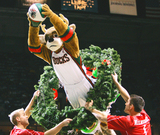 1) How about a win against a quality, winning opponent that isn't missing a key player or two? The Bucks don't have one of these wins this season. I give you Ball Don't Lie's NBA power rankings this week in which the Bucks were ranked 17th: "You beat the Clippers by a ton, at home. I'm … proud of you?" Oh, the truth hurts. … So Tuesday night vs. the 17-12 Jazz was a great opportunity to beat a solid, winning team on the home court, right? Wrooong. The Jazz's hottest player, center Mehmet Okur, scratched with back spasms. Despite this fit of good fortune, the cold-shooting Bucks and Michael Redd nearly bricked their way out of the game until some solid Bucks D and point guard Luke Ridnour saved the day. After the game, Jazz coach Jerry Sloan said his team looked like they were playing "streetball."
A relatively healthy 15-11 Detroit team, with Antonio McDyess back in the fold, comes to the BC Saturday and the Bucks have three days off before the game. Allen Iverson is day-to-day with an injury suffered Tuesday against the Bulls but that's fine — Iverson often plays better when he's hurt, as Bucks fans know too well (I'm supressing 2001 playoff flashbacks now). Detroit is 11-11, including a win vs. the Bucks in Detroit, since trading Chauncey Billups to Denver for the Answer. The AI record should be 12-11 after the Pistons play the OK City Thunder on Friday. Beating Detroit would qualify as the Bucks best win of the season.
2) A bottle of Andrew Bogut's "magic pain pills." Bogut goes into excruciating detail on his blog about his ailing back and the "magic pain pills" that have allowed him to play the last four games. Seems a couple of his vertabrae are "stuck" and causing severe pain. He says he needs a wheelchair in the morning and feels like he's "a hundred years old." Ouch. But these magic pills do wonders: since Bogut started taking them, his free throw shooting is better than ever at 69.1%, and the Bucks have won three or four.
3) Some magic pills for Charlie Bell. Charlie, who played hurt through the 14 games that Michael Redd missed during his sloooww recovery from a high ankle sprain — and then missed six games himself — went down again Tuesday vs. the Jazz. This time it's a sore knee, just when it was beginning to look like Charlie was returning to his 2007 form. The Bucks could use some good health in general, though nobody around the NBA is going to throw them a pity party. Malik Allen, who had been starting at power forward, has missed the last eight games with a rib injury.
4) This is where I post the Sports Illustrated photo at left of Richard Jefferson and his Trinidadian supermodel wife, Teresa Lourenco, in hopes that you read this Bob Boozer Jinx post from last week (no, this is not a shallow attempt to spice up this post with a pic of a hot supermodel). R.J. has become somewhat of a forgotten man in Bucksland, except when fans notice that his box score line doesn't always look as good as some think it should (the warped analysis of a certain ESPN stat guy comes to mind). Stats are not R.J.'s game — the intangibles are, and those are part and parcel to the attitude R.J. brought to the Bucks via the trade with the Nets last summer. There's no question coach Scott Skiles appreciates his forward — he keeps R.J. on the floor more than any other Buck. As of this writing R.J. is 3rd in the NBA in minutes played and the Bucks chemistry on the floor looks better than it has in years. Plus, R.J.'s hitting the three.
5) More about Teresa Lourenco? It's the least I could do. But is there no style page in this town to take these burdensome supermodel responsibilities from the Bob Boozer Jinx? Maybe now that Packers season is winding down, our local culture vultures can get on the Lourenco beat, if she's around at all. A little gemutlichkeit has never killed a supermodel from Trinidad, has it?
6) A "rookie curb" for Luc Richard Mbah a Moute to hop instead of a "rookie wall" like the one Yi Jianlian hit last February. Early on this season, Journal Sentinel's Michael Hunt wrote that the defense played by the Bucks' Cameroonian prince was remniscent of the D Sidney Moncrief played in his rookie season (1979-80). That's colossal praise when you consider the NBA more or less invented the Defensive Player of the Year award for Moncrief. After an impressive start, the #37 pick in the draft became a fan favorite, then seemed worn down for a couple of weeks before last week picking it up against the Knicks, Clippers and Jazz. Mbah a Moute can guard three positions but has played most at power forward; he's contributing a solid 8.5 pts, 6.5 rebs per game … All-Rookie honor roll so far.
7) Bucks first round pick at #8, Joe Alexander, remains a mystery. Joe's got some ups and can knock a shot down, but he looks lost on the court — night and day compared to Mbah a Moute, who is so often in the right place at the right time. The Dalai Lama, who I found on my pilgrimage to Tibet, wasn't able to tell me why the Bucks drafted Joe, other than to say "maybe he's a good Joe" and went on to ask a lot of questions about Brett Favre. Maybe Santa knows, and some insight into why Bucks GM John Hammond drafted Joe will emerge over the holidays.
Joe and the Bucks this week did crank up a campaign to vote Joe into the All-Star Game dunk contest. Joe says you gotta vote Joe and that he's going to beat the champ, Dwight Howard. That's not the draft explaination I was looking for from Santa, but here's Joe delivering his dunk contest hype:
I don't see an Emmy in the kid's future, but the Mandarin Chinese bit should sway the far East electorate.
8) More Tyronn Lue from 3-point land!!! Lue is shooting 65% from downtown this season and is easily the Bucks best shooter. Lue is now 15th on the active NBA career 3-point percentage rankings, and its great to see rainbow jumpers by a Buck hitting nothing but net. (Unfortunately, the Lakers have noticed too). With Luke Ridnour and Ramon Sessions getting most of the Bucks point guard minutes, however, PT has been hard to come by. It'd be a nice gift if Skiles can find some creative ways to get more shots for Tyronn.
9) Ramon Sessions was more or less benched last week in Philly and NY, and the point guard responsibilities have rested on the shoulders of Luke "Frodo" Ridnour (who, in addition to point guard burdens, has more nicknames than any Bucks player). Here's hoping Sessions and coach Skiles stay on the same page and that Ramon finds his way back to the major role he played while Redd was out. Frodo won't get very far without Sam.
10) I had hoped to write an item here about Michael Redd continuing his recent passing and ball-sharing ways after the holidays — but it was not meant to be. If anything was obvious to fans who watched the Bucks nearly hand a home game Tuesday to the depleted Utah Jazz, it was that Redd is not the guy who'll deliver the team from the land of NBA mediocrity. Oh, those 27 pts he scored looked good in the boxscore but if you watched the game (or were there) you know that Redd nearly shot the Bucks into a loss in the 4th quarter. But this isn't about one game; it's about an end to an era; an end to a selfish, no-defense style of play that Bucks fans have seen far too much of these last five-plus years.
This era is ending under coach Scott Skiles but as Tuesday showed, it's not ending soon enough — though the Bucks did win the game, thanks to some solid defense and team play in crunch time, a very encouraging sign. In many ways, the Utah game was a microcosm for the transition that the Bucks are making this season: the better qualities of the new era have begun to overcome the deficiencies of the old.
Oh but it's Christmas, after all, no time for brooding contemplation and the weight of future (gotta leave something for the new year). The Bucks and most of the NBA are merrily into a holiday break, and that's where I'm headed, alright …
The Celtics and Lakers play Christmas day,
Merry Christmas to all, and to all a good night.